Take a Tour of our Sussex, WI veterinary hospital!
We are proud of our hospital facility and welcome your request for a personal tour. Our clients are always amazed that our clinic is really just a miniaturized version of a human hospital and they always comment about how odor free and clean we keep our hospital.
Reception / Waiting Areas
We have separate waiting areas for dogs and cats. Retail items are available for your convenience. You can also enjoy our complimentary beverage and snack center.
Consultation and Examination Rooms
We have 4 examination rooms, one of which is used mainly for consultations and surgical or dental release appointments. Our three examination rooms are used mainly for outpatient appointments. Each is supplied with diagnostic equipment and supplies for obtaining lab samples.
Pharmacy
We have a full service pharmacy for our client's use. It is important to us to be convenient for our clients, you can pick up your prescription at your appointment time and also call ahead for any refills. We ensure that the medications and products our clients receive were handled appropriately and that our products are safe and effective. When your pet receives medications through us, it allows your pet's medical record to be more complete and allows us to monitor for accuracy of dosing instructions and any drug interactions. We are competitively priced- we try to meet or beat the big internet site prices on most items. And if you buy through us you are supporting a local business, not some faceless industry giant. The income from our pharmacy does help us keep our other prices as low as possible. We appreciate your support.
Laboratory
We have a state of the art In-house laboratory in which we can perform preanesthetic blood tests as well as urgent care evaluations for medical cases. Other tests we run include skin scraping, cytology, fecal smears, urinalysis. We work with a number of professional diagnostic laboratories for in-depth medical diagnostics.
Treatment Area
This is the hub of activity for our hospital, where we do patient treatments, surgical preparation, and hospitalize sick patients. We have oxygen piped throughout our hospital for critical patients and anesthesia use. All patients undergoing anesthesia for surgery or dentistry, or critically ill patients are housed in our ICU for constant monitoring.
We use this area for surgical and dental instrument clean-up and sterilization.

Radiology and Imaging Suite
We have the latest in imaging technology- both digital radiography as well as ultrasonography. In addition we have the capability of digital dental radiography.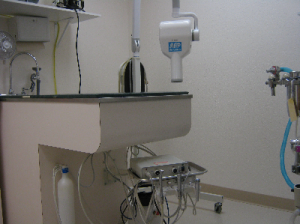 Dental Suite
We have a full service center for oral health care- ultrasonic and high speed dental equipment, used for preventive care as well as surgical tooth extractions and treatment of periodontal disease.
Surgical Suite
Our surgery is used exclusively for sterile surgery. We use the latest anesthetic drugs and protocols to make anesthesia as safe as possible. We have multi-parameter monitors to electronically track heart rate, blood oxygen levels, blood pressure, and respiration in anesthetized patients. All our patients have their own certified technician personally monitoring them from pre-medication, through induction and recovery of anesthesia. We have warm fuzzies and a circulating warm water blanket to help maintain body heat during anesthesia. All patients have an intravenous catheter in place and are connected to an IV fluid pump to help maintain blood pressure and hydration.
Patient Wards
We believe that hospitalizing dogs and cats separately helps decrease stress. Our exclusive feline only ward is equipped with multi-level kitty condos, supplied with fluffy bedding and a resting perch. All our dog runs are equipped with a resting bench. Our kennels are situated so no dog or cat, can directly view other patients. Our wards have specialized ventilation systems, that utilize 100% fresh air to prevent spread of disease and control odors. We have an in-house laundry to wash bedding we use to keep our patients warm and comfortable during their stay. We also have facilities for bathing and grooming in this area.